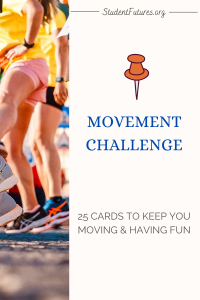 Need a quick and easy activity for kids to boost their energy and regain focus? I created Mindful Movement Cards to help students and teachers get a much needed short break. Taking breaks has been proven to have various benefits. You help you mind and body by taking breaks not just during school ,but after school too.
Aside from school these cards can be used at home to break away from screens. It's fun for the whole family. Kids as well as parents can get moving. Everyone will feel great and build relationships with each other. Talk about a win-win!
Benefits of Brain Breaks 
 – use while studying and doing homework
 – teachers can use when transitioning between activities
 – teachers use while planning or grading papers
 – no one is "bored"
– use with the whole family
– reduce stress
– boost creativity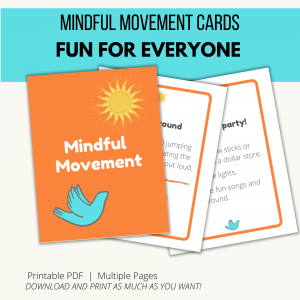 Student Futures' Mindful Movement Cards contain 25 activities to get everyone moving and feeling good. Some cards contain affirmations for positive mindset. It's time to move and groove! Studies have shown that brain breaks activate the mind, reduce behavior problems, and help to relieve stress. So many benefits and so much fun!
These cards provide an easy and engaging way to practice mindful movement. Use these cards in your home, classroom, studio, or even travels. This Mindful Movement deck is 1 of 4 that make up a larger deck titled, JOY. Other decks are Gratitude,Creativity, and Kindness. Collect all four!
These cards can be purchased HERE as a printable and you can cut out the cards and use them. OR the printed cards can be purchased HERE.