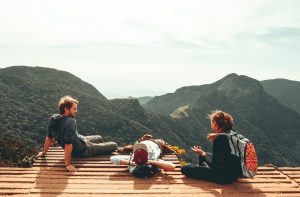 Spring break has everyone excited about sleeping in and not doing any work. It's a great opportunity for teachers, students, and parents to get a much needed break. Eventually, all good things must come to an end. With every end comes a new beginning. So let's treat the return from break like a fresh start. Similar to when we returned from winter break. Just because it's not a new calendar year doesn't mean we can't have a fresh start. There is not much time left in the school year, but this a great opportunity to reflect on the year so far, and take action so that we go out with a bang.
Reflect. What have you accomplished so far and what do you hope to accomplish before the end of the school year? If you look back you'll be amazed at everything you have done so far. It will motivate you to do more before the end of the school year.
Setting goals is a great way to positively move forward with a fresh start. Get a FREE goal setting activity below. Think about what you want to achieve and learn. Our Victory is Yours workbook has various activities to help with goal setting and motivation.
When your inner critic attacks and tries to tell you all that you haven't accomplished or makes you analyze every mistake thus far SHUT IT DOWN! Listen to your inner coach and follow a growth mindset. We can learn from mistakes and experiences. There is always time. Keep your head up high.
Talk to people. Catch up with everyone you haven't seen lately. Tell them how you're feeling about returning. Chances are they are feeling the same. We can deal with our emotions better when we have someone to talk to.
Look forward. Think about what you have coming up that's exciting. It could be a trip, a sports game, seeing someone you care about, or learning something new. Focus on doing well now and look forward to a reward later. If you don't feel you have something to look forward to then create a reward for yourself. Perhaps an outing at the end of the school year.
For our homeschool structure we decided not to take an official spring break. Mostly, because we take days off here and there for field trips, or other things. Recently, the kids decided they wanted to learn a new language. We are trying Duolingo and Genevieve is learning French and Conrad is learning Spanish. This is a great app for anyone who wants to learn a new language. Personally, I am excited to plan a new biology/ anatomy unit for the kids. Our homeschooling style is a mix of traditional and unschooling. If the kids want to learn something, we learn it, but also use structured curriculums for basic Language Arts and math.  Conrad brought up that he wanted to learn more about the skeleton and muscles because his instructors at karate reference certain things that he doesn't know. I find so much joy in planning units for the kids. Already, I have found lots of fun resources. I am excited to learn with them!
Go HERE to get my FREE Goal Scope form that utilizes the right and left sides of the brain, helping you analyze your goals and succeed. HERE is a link to another goal setting activity.