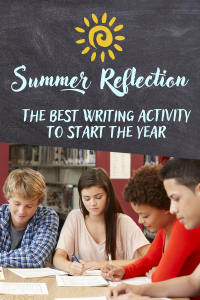 Transitioning from summer to the new school year can be tough for many students. It's hard to get back in the groove of things. The summer is filled with fun things like:
sleeping in
going on adventures
hanging out with friends
staying up late
not doing homework
Going from that life to a life full of structure and lots of school work is a big change. When faced with a big change such as going back to school it's good to take some time to reflect. Reflection gives our brain the chance to take a break during the chaos, to really analyze and think about our observations and experiences, and interpret our past to give new meaning for the future.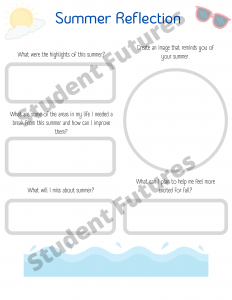 This Summer Reflection worksheet is great for students and teachers. Especially, during the first week of the new school year. It prompts students to really think about their summer and what they want going forward. It's printable and a fillable pdf so it's great for online students doing distance learning.
It asks the following questions:
What were the highlights of this summer?
What are some of the areas in my life I needed a break from this summer and how can I improve them?
What will I miss about summer?
What can I plan to help me feel more excited for fall?
Create an image that reminds you of your summer.
Taking time to reflect helps you 
become self-aware
navigate through daily life easier
it improves your ability to understand the reason behind things.
While reflecting is great, it's important not to constantly dwell on the past. It should be used as a way to move forward towards creating a better future for ourselves. Reflecting helps you to understand your past, value the present, and look forward to the future. Reflection shouldn't be done with anxiety, but with gratitude.
Want more fun activities for going back to school? The First Day of School Interview helps students and teachers start building relationships on the first day of school. Check out New School Year, New You, which combines STEM and goal setting to start the new school year off on the right foot.